BUSINESS SECURITY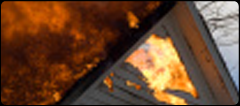 FIRE & FLOOD MONITORING
At Maxim Security Alarm Service, fire and flood monitoring is simple to integrate into an existing home security system and can significantly reduce your property damage.
A monitored fire-alarm system detects the presence of smoke and fire by identifying environmental changes associated with combustion.
When system devices, such as smoke or heat detectors determine that there is a fire, the alarm will sound and our Monitoring Center will send a signal to emergency responders.
A quick dispatch of emergency responders greatly increases the chances for safety for your family and pets.
Flood alarm detectors work by detecting water or moisture that should not normally be present in a specific area. These detectors work especially well in areas prone to leaks or floods, such as in a basement or in an area where a water heater is located. Flood detection monitors can provide warning of a possible flood before the damage is done.